Poverty Has The Same Face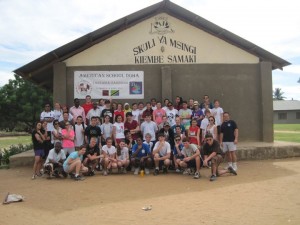 In high school, I had the opportunity to travel to Africa as part of international service trips that were offered to me. During these trips, I was struck by two things that I still carry with me. First, I was surprised to see that people there exuded happiness even though they had fewer possessions and many hardships. I will never forget the look on the teacher's face in Ghana as he showed us the local school's computer lab. He lit up when he revealed it. It consisted of two ancient Mac computers and rows upon rows of wooden chairs. It was a humbling experience to see someone who had so little seem so happy.
The second thing I realized was that poverty has the same face – whether it was in Ghana, Tanzania or Zanzibar. The people living through it may all be different, but have many similarities. It made me realize that we are all interconnected, in some way, shape or form. We are all human beings who share mostly the same DNA, and have similar struggles and feelings throughout life. It is not something that left me but drove me. As scientist Carl Sagan so eloquently stated, "The beauty of a living thing is not the atoms that go into it but the way those atoms are put together. The cosmos is also within us. We're made of star stuff. We are a way for the cosmos to know itself." We may be from different countries, states, provinces and nations but our lives are bound together. During this trip and many others, I could feel an invisible and unbreakable string connecting me to the lives of many other people in each country that I travelled to. When I left, I could feel the string tugging at me. When we come together to solve issues like extreme poverty and preventable disease, our interconnectedness and the beauty of humanity shine through.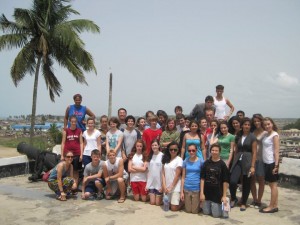 Ghana was first African country I had the pleasure of visiting. This picture was taken at the Cape Coast Castle, where slaves would be shipped off to the Americas. During our time there, we helped construct part of an elementary school. I feel that the work I put into that school is also a part of myself that I have left in Africa, and another way that I am connected to the lives of people who use the school every day.
In Tanzania, my classmates and I painted a small, local school for a few days. We had the opportunity to sit in some of the classes with the students and experience school life. The children in the school are some great examples of people that I felt a deep connection with.
Thanks to these service trips and other travels, I have always had a humanitarian spirit in me and a desire to help, I have just been looking for a place to put that into constant use. So when I came across my local ONE Campus chapter at my university, I was thrilled to meet people who reflected my values and passions. ONE and ONE Campus are deeply ingrained in activism on issues that I am so passionate about. This year's Poverty is Sexist campaign spoke to me because gender equality is an issue that is near and dear to my heart. The "Strong Girl" song inspired me, especially the line "Nothing is stronger than a woman's worth." I am so happy to have found an organization that allows me to use my voice on this assortment of issues.
Experiencing poverty connects all of us, no matter what nationality or place we call home. I'm grateful for the teacher who showed me the school's computer lab and all of the people I've met on my travels, because it ignited my passion to end poverty.  With activism comes change. ONE Campus allows me to work towards making a difference by using my voice to change the face of poverty.
Categories: One Campus